New C7 Chevy Corvettes are really cheap right now
Production of the C7 Corvette ended earlier this year, but thousands of 2019 Chevy Corvette models remain in stock across the country.
Many are deeply discounted at dealerships, and Chevy is advertising nearly $12,000 off MSRP for a new 2019 Z06.
The new 2020 Corvette C8 won't begin production until February.
Now might be the perfect time to get your hands on the last front-engined Corvette. While buyers wait eagerly to take delivery of the new mid-engined 2020 Corvette C8, thousands of 2019 C7 Corvette models remain in stock at Chevrolet dealerships across the country—and there are some deep discounts to be had.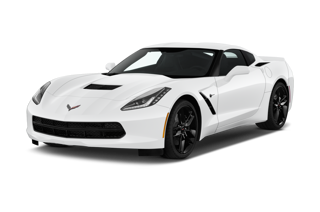 Research the Chevrolet Corvette on MSN Autos | Find a Chevrolet Corvette near you
Chevrolet is advertising a nationwide deal for nearly $12,000 off the MSRP of a new Corvette Z06. We conducted a search of 2019 Corvette inventory on Chevrolet's website and found many Stingrays, Grand Sports, Z06s, and ZR1s with discounts ranging from $8000 to $16,000 off MSRP. These discounts include dealer markdowns, Chevrolet corporate cash-allowance incentives, and a current "Chevy Employee Discount for Everyone" deal that lasts until January 2, 2020. As is always the case with car dealerships, it's important to keep in mind that your mileage may vary when you walk in the door.
Automotive News reported that there are 5000 Corvettes in inventory nationwide as of November 1, which it says is a 122-day supply. Production of the 2020 Corvette C8 won't start until February due to delays caused by the UAW strike. The final C7 Corvette, a black Z06, rolled off the production line in Bowling Green, kentucky November 15, 2019, and was sold at a charity auction for $2.7 million. But if you can swing one of these discounts at your local dealer, you'll be paying a lot less than that—and a lot less than MSRP.
Research the Chevrolet Corvette on MSN Autos | Find a Chevrolet Corvette near you
Source : Link