Loughlin released on $1M bail in college admissions scandal
UP NEXT
Ethiopia flight 'track' similar to Lion Air: FAA

Federal Aviation Administration Acting Administrator Daniel Elwell told reporters in a telephone call following Trump's announcement that the Boeing 737 Max would be grounded pending investigation that the Ethiopian plane's "track" was similar to that of a Lion Air flight that crashed just months ago. Rough Cut (no reporter narration).

Reuters

Trump orders all Boeing 737 MAX to the ground

The United States was the last major country to stop all Boeing 737 MAX jets from flying after the plane was involved in its second deadly crash in five months. Conway G. Gittens reports.

Reuters – US Video Online
UP NEXT
Video by Reuters
Actress Lori Loughlin was released on $1-million bail Wednesday after being taken into custody as part of a sweeping college admissions corruption scandal.
She appeared Wednesday afternoon in federal court in Los Angeles. The court agreed that she will be allowed to continue filming in Vancouver.
She was among dozens swept up in what prosecutors called the largest college admissions fraud scheme they'd ever seen.
Full coverage: Dozens charged — including Hollywood actresses — in connection with college admissions scheme »
On Tuesday afternoon, another actress, Felicity Huffman, made a brief court appearance in Los Angeles. She answered "yes" to several questions from the federal magistrate, including whether she understood the charges against her. She was seated in a glassed-off area with several other defendants. Her husband, actor William H. Macy, sat in court as the magistrate ordered her free on $250,000 bail. She was finally released from custody late Tuesday, exiting the courthouse to throngs of reporters.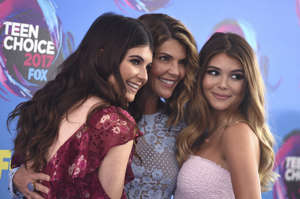 © Jordan Strauss/Invision/AP Bella Loughlin, from left. Lori Loughlin, and Olivia Loughlin arrive at the Teen Choice Awards at the Galen Center on Sunday, Aug. 13, 2017, in Los Angeles. (Photo by Jordan Strauss/Invision/AP) She is expected to appear in a Boston courtroom March 29 to address the charges.
Huffman is accused of disguising a $15,000 charitable payment in the bribery scheme, according to court records. Prosecutors alleged she met with a confidential witness who explained that he could control an SAT testing center and could arrange for someone to proctor her daughter's test and correct it.
Huffman's older daughter took the test in December 2017 and received a score of 1420. That was a 400-point improvement from her first test. In October, Huffman was recorded by the FBI allegedly discussing participating in the same scheme for her younger daughter; however, she did not ultimately pursue it.
Her attorney declined to comment.
Ethiopia flight 'track' similar to Lion Air: FAA
Federal Aviation Administration Acting Administrator Daniel Elwell told reporters in a telephone call following Trump's announcement that the Boeing 737 Max would be grounded pending investigation that the Ethiopian plane's "track" was similar to that of a Lion Air flight that crashed just months ago. Rough Cut (no reporter narration).

Reuters
Trump orders all Boeing 737 MAX to the ground
The United States was the last major country to stop all Boeing 737 MAX jets from flying after the plane was involved in its second deadly crash in five months. Conway G. Gittens reports.

Reuters – US Video Online