Loss sends Penn State sliding in Playoff rankings – 247Sports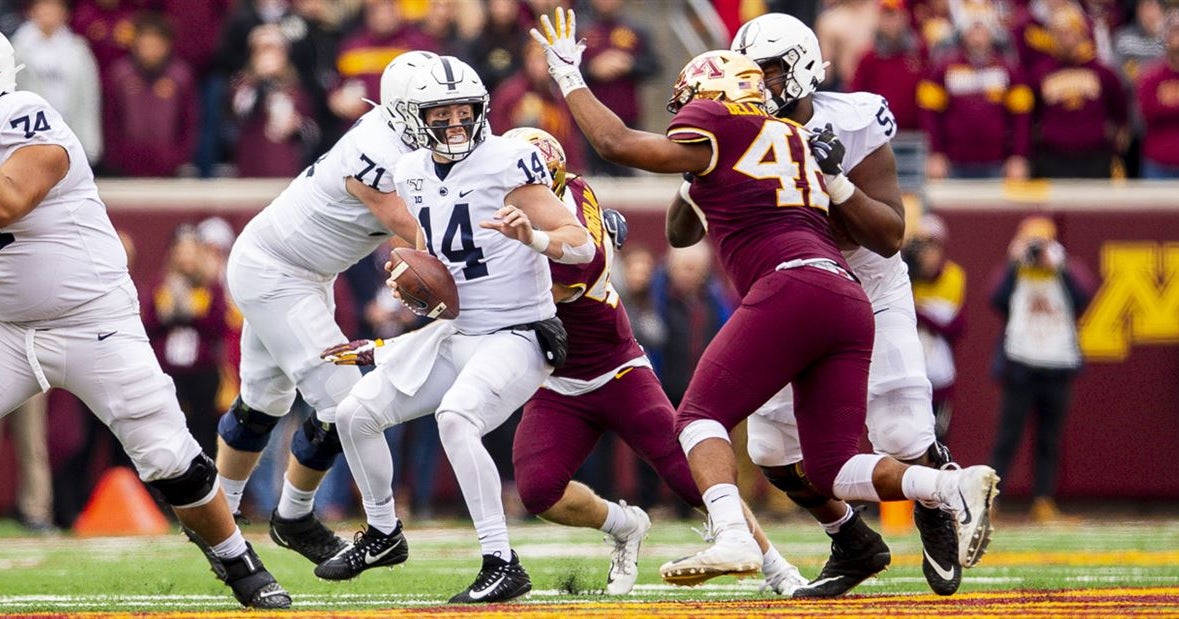 Penn State accomplished a program-first last week by securing a top-four spot in initial College Football Playoff rankings. However, an ensuing loss at Minnesota has sent the Nittany Lions sliding down that list and creates an uphill climb toward tournament contention.
Playoff rankings were updated Tuesday night, revealing a drop for Penn State from No. 4 to No. 9. The results feature a new No. 1 — LSU lands on top after beating Alabama in Tuscaloosa — and two Big Ten teams ahead of the Nittany Lions.
Ohio State was leapfrogged by LSU following a 73-14 win over Maryland, but the 9-0 Buckeyes remain in excellent shape for the postseason at No. 2. Meanwhile, upstart Minnesota climbed from No. 17 to No. 8 after securing its most notable victory in modern program history.
The Golden Gophers, who lead Big Ten West standings by two games with three contests to play, built a 24-10 first-half lead versus Penn State last Saturday and held on late to prevail, 26-21. Minnesota is 9-0 for the first time since 1904.
Golden Gophers quarterback Tanner Morgan completed 18 of 20 pass attempts for 339 yards and three touchdowns against the Nittany Lions, while Penn State QB Sean Clifford tossed three interceptions after totaling that many turnovers through the first eight games. Despite landing in an early hole, Penn State had an opportunity to take a late lead before Clifford was picked off in the end zone with one minute left.
The Nittany Lions reached the red zone on three consecutive possessions to finish but those chances produced only seven points.
"We did fight extremely hard for four quarters, had a chance to win at the end," Penn State coach James Franklin said Tuesday. "But we had turned the ball over five times all year, and we turned the ball over three times on the road against an undefeated team in the Big Ten on the road. … Did not play well enough to win. Got to give Minnesota credit, but we did not play well enough to win."
Penn State is among a collection of conference representatives featured in Playoff rankings. Aside from Ohio State and Minnesota, this group includes Wisconsin (No. 14), Michigan (No. 15) and Iowa (No. 20).
Ranked in the Associated Press Top 25 Poll (No. 24) for the first time since 1994, Indiana heads to Happy Valley for a noon kickoff Saturday. The 7-2 Hoosiers will be the fourth ranked foe Penn State has encountered in a five-game span.
PSU will attempt to shake off any hangover from a disappointing outcome in Minneapolis.
"I think Coach Franklin said it best right after the game — we can't let Minnesota beat us twice," sophomore defensive tackle PJ Mustipher said. "So when you're coming off a game like that, you've got to be able to quickly move on."
A Nittany Lions victory would set the stage for Penn State to make its biggest statement yet Nov. 23 in Columbus, where an unbeaten Ohio State squad will await (unless the Buckeyes suffer the upset of all upsets Saturday at 2-7 Rutgers). The winner would be destined for a Big Ten championship game appearance Dec. 7 in Indianapolis, and Minnesota is in the driver's seat to serve as their opponent.
Penn State is ranked ninth in the AP Top 25 Poll and 11th in the Coaches Poll. Another pair of wins would give the Nittany Lions a double-digit win total for the third time in four years; a span not seen at PSU since 1993-96. The program has finished the regular season 12th (2018), ninth (2017) and fifth (2016) in Playoff rankings during recent years.
The updated College Football Playoff rankings are listed below…
25. Appalachian State
24. Kansas State
23. Navy
22. Oklahoma State
21. Boise State
20. Iowa
19. Texas
18. Memphis
17. Cincinnati
16. Notre Dame
15. Michigan
14. Wisconsin
13. Baylor
12. Auburn
11. Florida
10. Oklahoma
9. Penn State
8. Minnesota
7. Utah
6. Oregon
5. Alabama
4. Georgia
3. Clemson
2. Ohio State
1. LSU
Source : Link