EU Leaders Get Ready for Days of Brutal Infighting Over Budget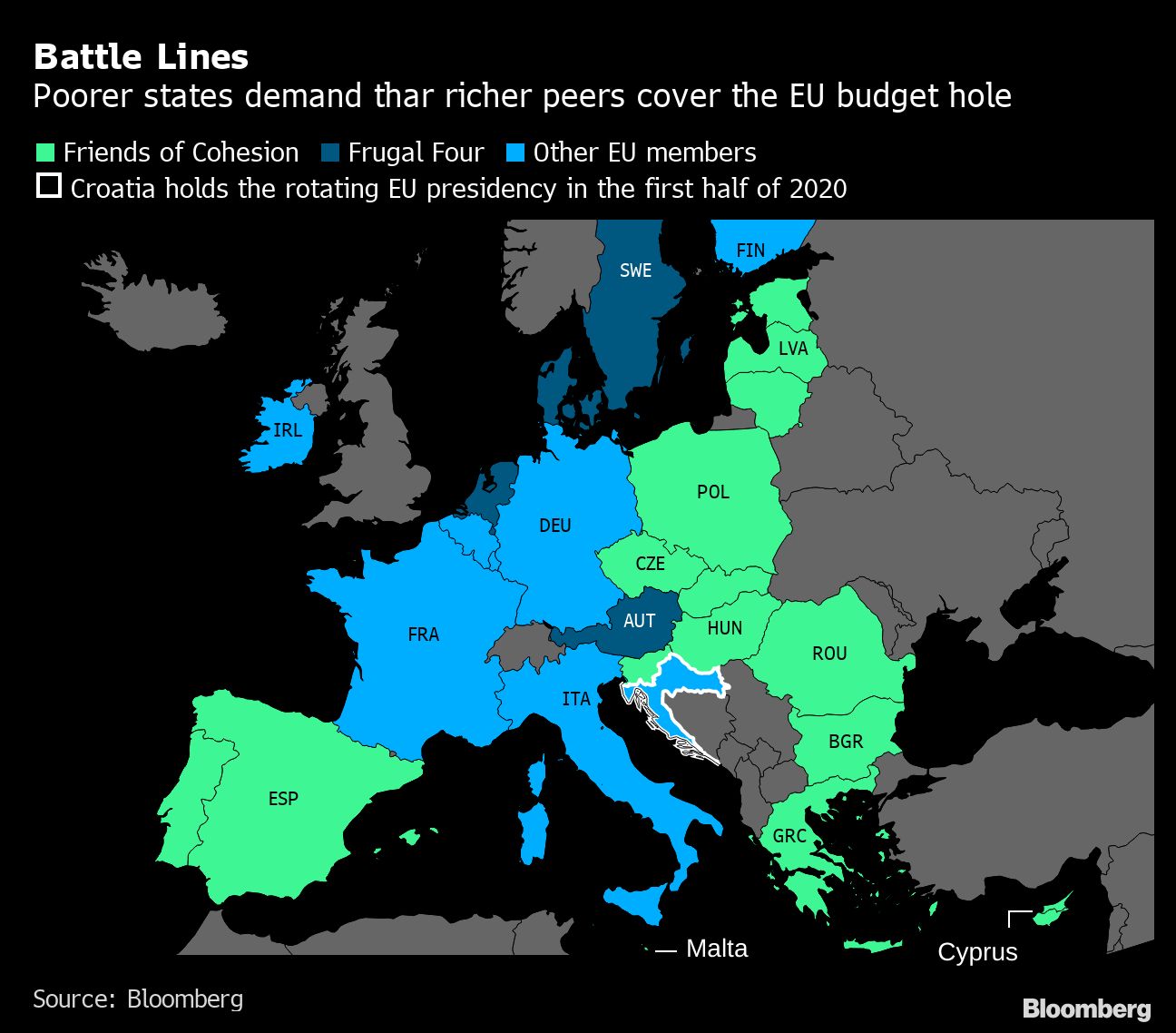 (Bloomberg) — Along with the usual files and spreadsheets, the European Union leaders traveling to Brussels this week to thrash out the bloc's long-term budget are being advised to bring an extra change of clothes. Maybe two.
The extraordinary summit to nail down a seven-year spending plan is scheduled to start on Thursday. But no end time has been set and diplomats fear negotiations could drag on through the weekend. Even then failure remains the likeliest outcome.
The trillion-euro budget is a cornerstone of EU policy that lets farmers compete against imports from the developing world, helps poorer states catch up with the rich ones and underpins projects that bind the union together. But it's also a lightning rod for the tensions running through the bloc and after three years of uncharacteristic unity during the Brexit negotiations, passions are now running high.
When European affairs ministers met Monday to prepare for the summit, one participant said, only half-joking, that the normal constraints of civilization had broken down as everyone attacked everyone else.
Britain's departure is part of the problem. The U.K. leaves a hole of roughly 60 billion euros ($65 billion) that needs to be plugged by either cutting spending or making others pay more.
But the EU's shifting priorities also require more money for issues like climate change and migration and those who gain from the traditional focus on agriculture and regional development are fighting to keep their benefits.
The outcome of the battle will be a critical signal as to whether Europe is prepared to spend more collectively to further its goals, whether it wants to prioritize innovation over handouts to traditional industries and whether it's prepared to wield its financial muscle to force member states like Hungary and Poland to respect the rule of law.
Essentially though, the EU is split into two basic camps: those who want to spend more, and those who can see they'll get stuck with the bill.
The Netherlands, Austria, Denmark and Sweden have argued for keeping the spending ceiling at 1% of the EU's gross national income, or GNI, and for a permanent system of rebates to limit their contributions. They to focus on new priorities and to curb the outlay in traditional areas.
On the other side are some 16 southern and eastern countries who see regional funding as a key tool to help them catch up with wealthier neighbors. They want a spending ceiling closer to the 1.1% proposed by the European Commission. The European Parliament has called for 1.3% and has threatened to derail any accord if it doesn't get it.
And yes, for all the sound and fury we'll see over the next few days, the leaders are fighting over a tiny sum of money for the EU's 450 million people.
France and GermanyFwd:Source approval please
The two big unknowns are the two biggest contributors: France and Germany.
While German Chancellor Angela Merkel has publicly urged for a compromise, her government's representative was one of the toughest in the ministers' discussion on Monday, protesting against a proposed higher ceiling, people familiar with the talks said. But diplomats stress that Germany wants a quick deal so that budget talks don't overshadow its turn with the EU's rotating presidency in the second half of year.
France, meanwhile, keeps reiterating that the EU needs to be much more ambitious without giving many clues on what it would actually accept. President Emmanuel Macron though is due at the Paris Agricultural Fair on Saturday evening, where he'll be meeting French farmers, one of the groups that benefits most from the current budget structure.
Last weekend in Munich, he said that fighting over pennies was a symptom of the EU's deeper failure to tackle the serious threats it faces, such as China's technological prowess and the instability on its frontiers from Ukraine to Syria and Libya.
Michel's Plan
Faced with the looming deadline, EU Council President Charles Michel held back-to-back meetings with all 27 EU leaders to gauge their key priorities and, crucially, ask each of them what they cannot go home without.
While some diplomats praised his speed-dating-like gambit for giving stalled talks fresh momentum, others complained that he didn't go into the numbers and technical issues enough, making it impossible to talk substance. His proposed compromise, circulated on Feb. 14, suggested governments commit 1.095 trillion euros to the joint 2021-2027 pot corresponding to 1.074% of the bloc's GNI.
Yes his Valentine's Day proposal was rejected.
The northern bloc said the ceiling was too high, too much was earmarked for the traditional handouts and the rebates for contributors were not permanent. The poorer countries said there wasn't enough money.
The northern countries feel that they have the upper hand, their diplomats say, because spending plans will be frozen if there's no deal by year end, and that hurts the other side more.
But several diplomats who will be packing extra underwear on Wednesday night before their trip to Brussels said this summit may be as much about showing the taxpayers back home how hard their leaders are fighting as about actually reaching a compromise. They aides are mentally preparing to return a few weeks later to do the whole thing all over again.
Source : Bloomberg Link