Chrissy Teigen Is Honored at Star-Studded 2019 Baby2Baby Gala and Dishes Out Jokes
Chrissy Teigen accepted a special honor in front of a star-studded audience at the 2019 Baby2Baby Gala in Culver City, near Los Angeles, on Saturday.
And, with all great intentions of course, the Lip Sync Battle star and Queen of Twitter dished out some jokes, on and offstage.
"I think I was pregnant the last time I was here, in like a big, red frilly dress, and I was very sober and I was just pounding food and donating and I was just so happy to be here, and I was sobbing at the video," she told E! News before the event. "So it's gonna be nice to have a glass of wine and still sob at the video."
"I get a lot of silly awards, I get a lot of like, 'Best Girlfriend,' Spike TV Awards or like 'Best Mac N' Cheese,'  or 'Hottest Chip Eater,'" she said. "It's different to have something that actually means something to you, because aside from all the jokes and the dumb stuff I tweet or say, it's nice for someone to recognize the care that you have and the empathy and love and respect that you have for a charity like this."
Wearing a flowing lime gown, Teigen walked the black carpet with husband John Legend before the ceremony, where he later presented her onstage with the Giving Tree Award for her commitment to children in need. The Baby2Baby charity helps impoverished children by providing donated diapers, clothing and other necessities. The gala, sponsored by Paul Mitchell, Prada, Nordstrom, Volvo Cars, and the Kayne Anderson Capital Advisors Foundation, raised $4.7 million for the non-profit group and the children they serve.
"I love my wife. I've made no secret of this. I've written songs about her and penned adoring Instagram posts about her for her birthday and our anniversary and Mother's Days, and she's a pretty awesome woman," Legend said onstage. "And because she's so awesome, a new genre of writing these speeches has become a specialty to me. It's the 'Chrissy's Being Honored at a Huge Event Speech.'"
"Everybody knows she's fierce, but she also has a big generous heart," he continued. "Nearly all her charity work is [inaudible] to make sure kids and families have the food and the supplies they need to survive and thrive. But I get to witness Chrissy as a mother, she's creative, she's fun, she's so affectionate with our kids. But we also have the good fortune to not have to worry about the expenses and challenges that seem insurmountable for living for other families. She's very, very aware of that and she keeps that in mind everyday."
He said that the two keep a "dedicated basket" in their house that "collects stuff exclusively for Baby2Baby."
"I was always, I gotta say, I was always so intimidated by this room, there are so many incredible, wonderful people in this room and you guys, you do so, so much for this organization, I never felt right being in it," Teigen said in her acceptance speech. "So it's weird being on this stage thanking everyone for being here for me, but I want to say…I'm honestly much more used to winning 'Best Titties'…I've been graced by tittie awards by Spike TV, so this is a welcome break for me."
"We're all grateful to every single one of you, so thank you for caring about every single child in our community, thank you for giving your time and your resources, this whole speech is for you, it's not all for me," she continued. "Thank you for seeing the humanity and figuring out how to help and fulfill their needs, thank you for standing by anyone. I know how lucky John and I are, because we have resources and all the help we need to make sure our kids get off to a great start and I know that far too many families can only dream of something even close to the life that we have."
She added, "I's still stressful and difficult for me to be a parent. I've been very vocal about postpartum depression and the struggles that go along with having a baby and what it means to your mental health. But physically, what people aren't able to grasp onto and what people aren't able to have on a daily basis, is, it's debilitating, it's hard to know people don't have access to the simplest of things. So on top of the normal stress of parenthood, I'm supposed to worry about being able to afford…if I were worried about the basics with my children, you know I would, it would just be devastating. So far too many parents deal with that on a daily basis, so all I can do is try my very best to ensure that every kid will have what they need."
"Thank you for honoring me, thank you for understanding that…thank you for recognizing that under all the p—y ass bitch comments and the 90 Day Fiancé tweets and the overall garbage that is my social media, I do genuinely care and I care deeply about this organization and I care about the wellbeing of children everywhere," she said. "So thank you thank you thank you for all the work you do."
Other celebs who attended the event included Nikki Reed, Kirsten Dunst, Kelly Rowland, comedienne Ali Wong, Kate Hudson, Katy Perry and her sister Angela Hudson, Jordana Brewster, Jennifer Garner, Jessica Alba, and Gina Rodriguez, who made her first public appearance since she drew controversy last month for rapping the N-word on Instagram, and Paula Abdul, who performed a medley of her hits onstage.
Matt Baron/Shutterstock
Chrissy Teigen
The model arrives at the event, where she would later accept the Giving Tree Award.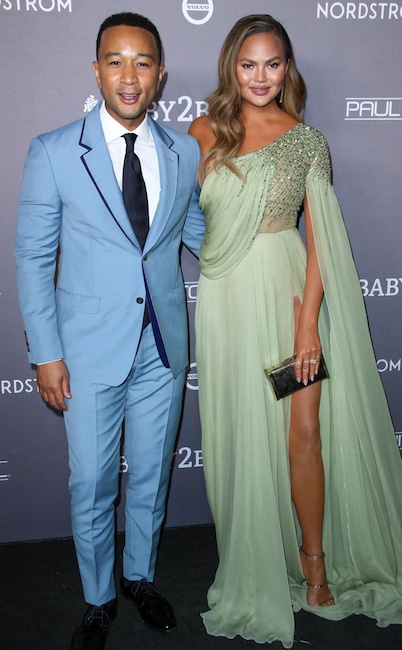 Matt Baron/Shutterstock
Chrissy Teigen and John Legend
The married couple poses together on the black carpet.
Stefanie Keenan/Getty Images for Baby2Baby
Chrissy Teigen
The model holds her Giving Tree Award.
AFF-USA/Shutterstock
Nikki Reed
The Twilight alum wore a teal Monique Lhuillier gownt to the event and wrote, "Heading to @baby2baby raising money for families and children who are in need of basic essentials, something every child deserves. I've always been in awe of what this organization is able to do, but last night I left feeling like I needed to be more hands-on, physically present, volunteering and actively participating in a different way. One thing I know for sure, this organization changes lives. As someone who grew up with a single mom in Los Angeles raising two kids, I know all about what it's like to live on hand me downs, paycheck to paycheck. The reason we were able to have the things we did was because my mom had an amazing group of angel friends who were kind enough to help us along the way when we didn't have enough. @baby2baby does just that, on a national scale creating a community that extends beyond your immediate surroundings, with people eager to help, to donate, to be your 'angel friends'…Last night we raised $4.7 million for supplies, toys, cribs, books, diapers, clothes and more."
AFF-USA/Shutterstock
Gina Rodriguez and Joe LoCicero
The Jane the Virgin star poses with her fiancé on the black carpet.
Matt Baron/Shutterstock
Jennifer Garner
The actress channels the princess look well.
AFF-USA/Shutterstock
Jordana Brewster
The Fast & Furious star poses in a blue and white printed gown.
John Salangsang/WWD/Shutterstock
Ali Wong
The comedienne is all smiles.
Matt Baron/Shutterstock
Jessica Alba
The actress sparkles in a silver sequined and feathered dress.
Jordan Strauss/Invision/AP/Shutterstock
Kelly Rowland
The singer poses in a one-shoulder ruffled black gown.
Matt Baron/Shutterstock
Kobe Bryant and Vanessa Bryant
The NBA icon and his pregnant wife are all smiles.
Jordan Strauss/Invision/AP/Shutterstock
Olivia Munn
The actress looks angelic in white.
Matt Baron/Shutterstock
Kate Hudson and Danny Fujikawa
The actress and her partner pose together on the black carpet.
Matt Baron/Shutterstock
Katy Perry and Angela Hudson
The singer and her sister pose together on the black carpet.
Matt Baron/Shutterstock
Kirsten Dunst
The actress sports a chic black dress.
Matt Baron/Shutterstock
Nicole Richie
The actress poses in a two-toned gown.
Rodriguez and Locicero were the first to arrive during the cocktail hour and walked in holding hands. The actress was later spotted chatting with Reed.
 Mark-Paul Gosselaar and his wife, Catriona McGinn, were also spotted making their way inside afterwards. Billie Eichner arrived with a male companion. Richie and husband Joel Madden arrived together and were immediately greeted by Baby2Baby co-presidents Kelly Sawyer Patricof and Norah Weinstein.
Source : Link